Innovating Future Business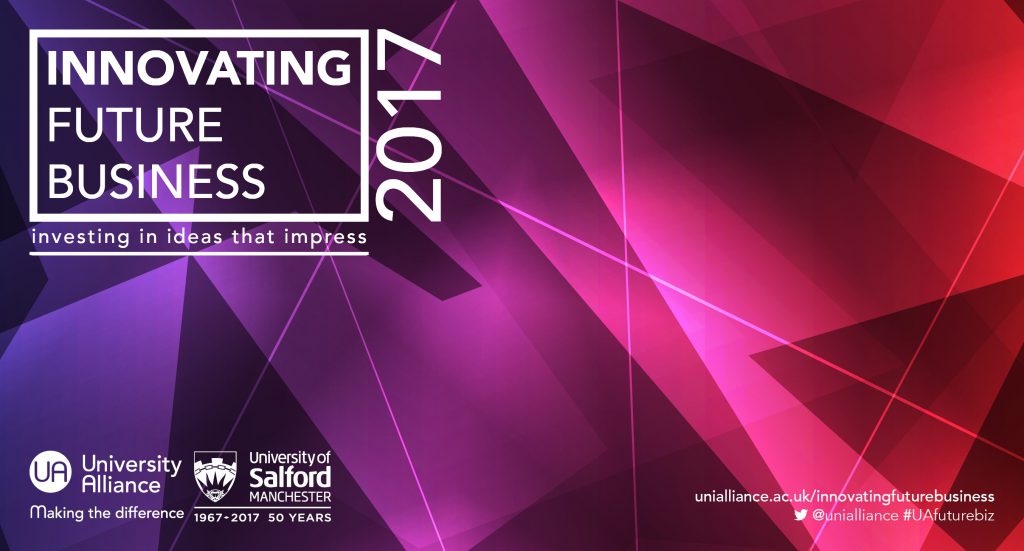 University Alliance is pleased to announce Innovating Future Business – an enterprise competition encouraging innovative, forward-thinking business ideas, open to current and former students of participating institutions across the University Alliance group.
TO ENTER: PLEASE NOTE WE NEED ALL ENTRIES BY 17TH MARCH 2017
23

rd 

 March 2017.
You will need to provide a 2 minute video outlining idea behind your business supported by a business model canvas using this template
Then please email Mae Henderson with your video and business model canvas stating which category you are entering e.g. pre-revenue or post-revenue category
Helpful resources: business-model-canvas-support-document
Please note if you are also applying for the Santander Universities Entrepreneurship Awards competition you may submit the same video and business model canvas for both competitions.
What is Innovating Future Business 2017?
An enterprise competition for students and graduates of Alliance universities, in collaboration with the University of Salford, ANS Group, Cariocca Enterprises, Marketing Signals, Wakelet, and Web Applications UK.
The competition includes multiple investors, with a prize pool of £5,000 – entrants will pitch their ideas to a panel of judges at the Innovating Future Business 2017 final on Wednesday 10 May 2017, hosted by the University of Salford at MediaCityUK. There will be a single winner, but all entrants will have the opportunity to get advice and feedback on their ideas from the judges.
The investors will be looking for a proposal for a business or start-up product or service that demonstrates a viable business with a low cost of entry, evidence of sound market research, and crucially an innovative idea with a 'wow' factor.
Who can participate?
The competition is open to students and graduates in all subject areas – entrants don't need to be studying a business-specific field but should have a good understanding of the specialisms needed to get their idea off the ground. Entrants are encouraged to view their business idea as the 'real thing' and not a theoretical idea. The personality of the founder/co-founders is also an integral part of the final decision – this is something that will come through during the pitch.
Each university participating in this years' competition will select their entry to pitch at the Innovating Future Business 2017 final.
How to enter:
Entrants will be selected by participating universities by Friday24 March2017 and will be asked to complete a short entry form to introduce themselves and their business idea ahead of the final. To enter, you must provide a proposal for investment in a start-up or business idea, product or service. Throughout the competition, all concepts pitched will remain the Intellectual Property of the respective competitors.
The Innovating Future Business final takes place on Wednesday 10 May 2017 at MediaCityUK in Salford. The finalists will have a five-minute slot to pitch their idea, after which time they will answer questions posed to them by the investors, university staff and other industry experts.
Contact your university's Enterprise team or Business school for more details about how to enter.
Innovating Future Business 2017 in partnership with: